With our feet in fluffy socks, the heater on and a pet to snuggle up with, we are trying our best to tackle this winter climate. But with these chilling temperatures a warm and scrumptious meal might be the key to help us face those cold winter nights.
Keep reading for our three favourite healthy winter meals that we can guarantee you will love too.
Minestrone Soup
This hearty soup originating from Italy, has a rich history dating backing hundreds of years. Minestrone soup is a dish containing a variety of vegetables, commonly including beans, onion, celery, and carrots. It was popularised in the 2nd century BC, after Rome's colonisation of Italy led to an increased variety of vegetables in Italy. This provided people with the ingredients to make this 'poor Man's soup'.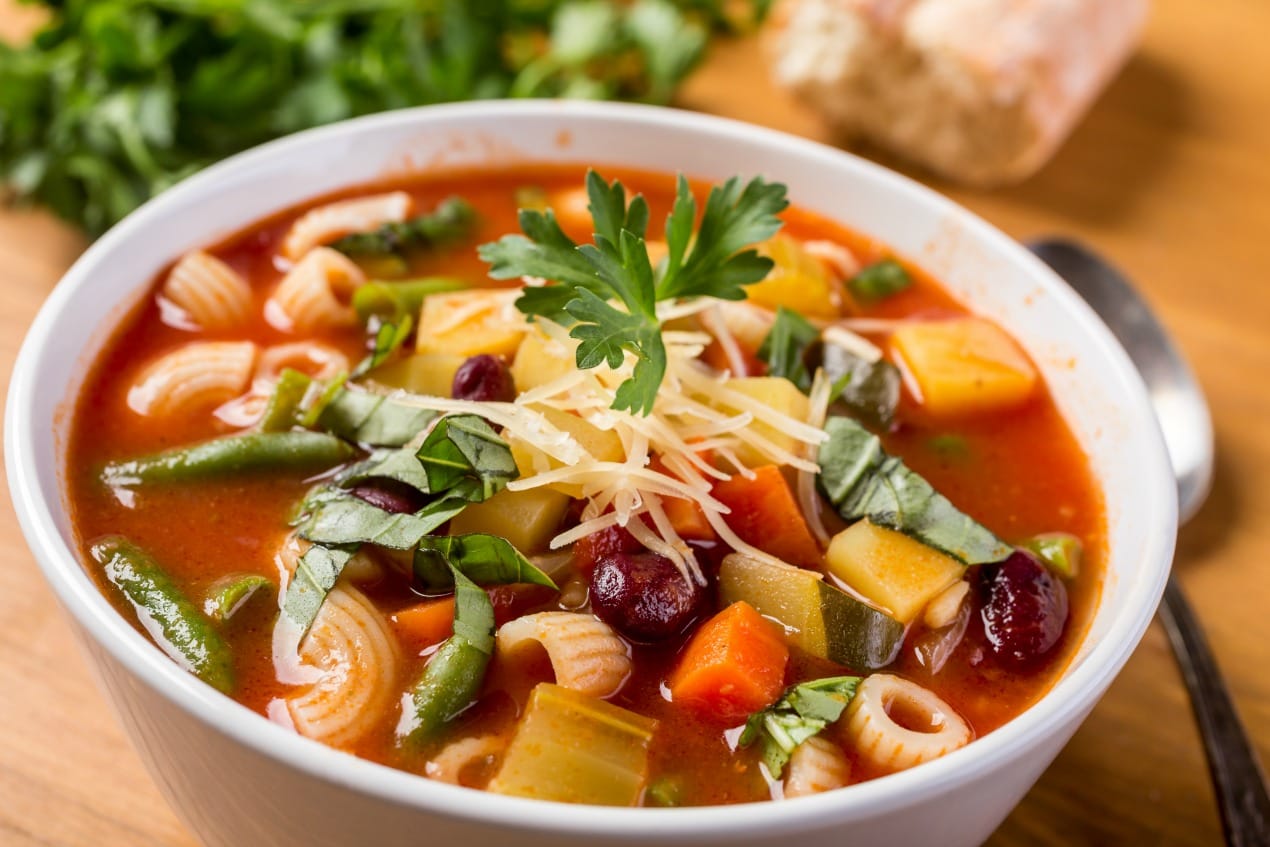 Serves: 4 Prep Time: 20 minutes Cook Time: 45 minutes
Serving recommendations: With homemade garlic bread, rice, pasta or potatoes.
Nutrition
Energy: 356kcal
Protein: 22g
Ingredients
2 cans of tinned tomatoes
2 cloves garlic, chopped
1 tablespoon of olive oil
1 tablespoons of Italian herbs
½ tablespoon of balsamic vinegar
2 carrots (diced)
1 onion (diced)
1 large celery stalk (diced)
2 salt reduced stock cubes.
2 bay leaves
2 cups of water
2 cups of vegetables of choice (e.g. 1 cup diced pumpkin, 1 cup diced squash, 2 diced zucchinis, 1 cup diced squash)
1 tin of beans, drained and rinsed
¼ cup of grated parmesan
Method
Heat up a large pot over medium heat. Once warm add the olive oil.
Once the oil is heated add the diced onion, carrot and celery. Cook for roughly 10-15 minutes or until soft.
Add the chopped garlic and Italian herbs and cook for one minute.
Then add the diced tomatoes, stock cubes, water, balsamic vinegar, bay leaves, vegetables, and beans.
Cook over medium heat for 30 minutes (the longer you cook it the better).
Serve with a sprinkle of parmesan on top and with some of the recommendations below.
Spinach & Ricotta Lasagne Rolls
This dish is a spin on an Italian classic, spinach and ricotta cannelloni. Although historians find it difficult to trace the origins of cannelloni, they can agree that this pasta shape was one of the first ever created and has been used since ancient times. And we can all agree is delicious and definitely worth a try.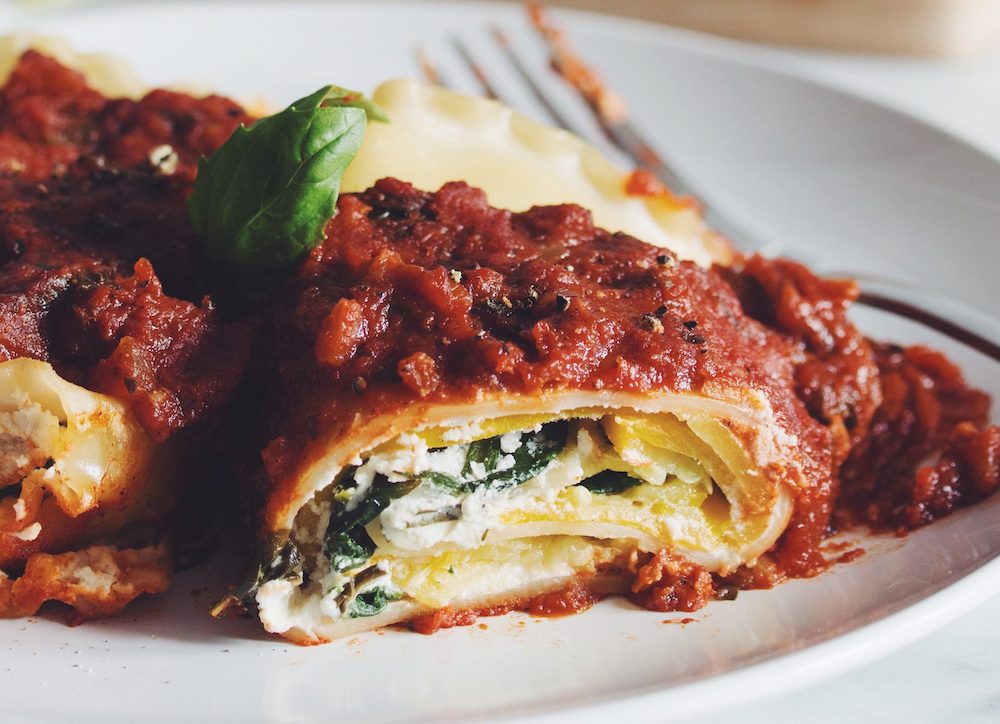 Serves: 4 Prep Time: 15 minutes Cook Time: 15 minutes
Ingredients
4 sheets of fresh lasagne (or 4 hard lasagne sheets pre-cooked in water)
200g ricotta
60g parmesan, grated
1 egg
60g mozzarella cheese
120g frozen spinach, thawed
2-3 cups marinara sauce
Salt and pepper to taste
Method
Preheat the oven to 180°C. In a bowl mix the ricotta, parmesan, spinach, egg, pinch of salt and pepper.
Spread a layer of cheese and spinach mixture on to one side of the lasagne sheets and loosely roll up.
Cover the base of a small baking dish with a thin layer of pasta sauce and place lasagne rolls in the dish ½ cm apart, seam side down.
Cover the top of the rolls with a generous amount of pasta sauce and sprinkle mozzarella on top.
Bake in the oven for 10-15 minutes until cheese is golden brown.
Cottage Pie
This delicious British dish, shows us that the English know how to nourish themselves through the cold winter months. This dish was popularised when potatoes were became an affordable and filling option. Early cookbooks listed this dish was a way to use leftover meat quickly become a homely staple.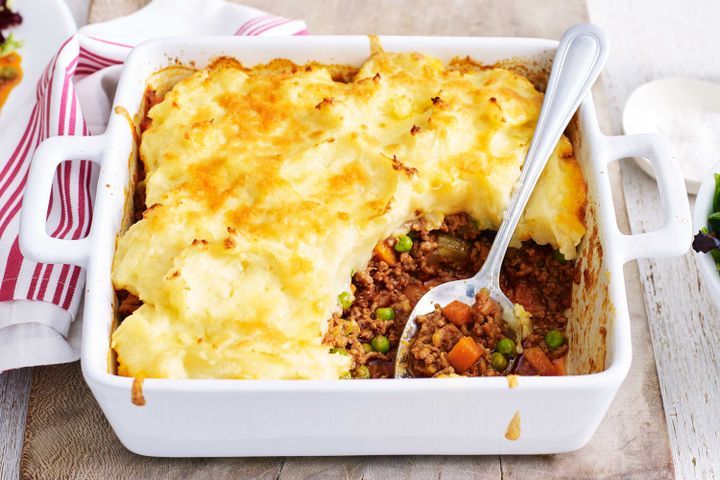 Serves: 4 Prep Time: 15 minutes Cook Time: 15 minutes
Ingredients
450 g extra-lean beef mince
60 Philadelphia light cream cheese
2 cloves of garlic, crushed.
1 cup grated cheese
4 cups frozen mixed vegetables (e.g. carrots, corn, green beans, peas, broccoli), thawed
1 cup (250ml) or pre-made gravy
2 cups of plain hot mashed potatoes
Steamed vegetables to serve
Method
Preheat oven to 200°C
Heat up a pan over medium heat. Once warm, add the meat and cook until brown (roughly 8-10 minutes).
Mix mashed potatoes, cream cheese, garlic and ½ cup of shredded cheese until combined.
Combine meat, vegetables, and gravy and spoon into casserole dish.
Cover the casserole with the potato mixture and remaining cheese.
Baked for 20 minutes and serve with a side of steamed vegetable.
Nutrition
400g of casserole is 496 kcals